Whether for birthday, Christmas or just as surprise for your loved ones - our gurkerl.at vouchers are the perfect gift for any occasion!
Order now your gurkerl.at voucher worth 25€, 50€ or 100€ directly via our webshop. Simply add the voucher to your shopping cart and carry out the order. We deliver the voucher with your next purchase.
1 pc
gurkerl.at-voucher 25€
1 pc
gurkerl.at-voucher 50€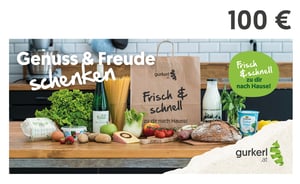 1 pc
gurkerl.at voucher 100€
How to redeem your voucher:
Any questions? Our customer care is happy to answer them!
Just call 0720 70 4100 (Monday - Friday 07:00-22:00 and on Saturday 07:00-18.30) or write an email to [email protected].
You would like to surprise the employees or colleagues in your company with a gurkerl.at voucher?
Our customer service will be happy to advise you on individual inquiries.