Gift and charity vouchers for better food and life
Delight your loved ones with a gift that will bring them a lot of benefits and the joy of shopping. We will send you the voucher by e-mail immediately, so you can buy it even at the eleventh hour.
Online-Gutschein
Delight your loved ones with a gift that will make them happy all year round, bring them many benefits and, in addition, you will be remembered every time they make a purchase.
Shopping at Gurkerl
Du suchst dir eine Summe aus und bezahlst den Gutschein online

Wir schicken dir den gekauften Gutschein als PDF an deine hinterlegte Email-Adresse

Du kannst den Gutscheincode ausdrucken oder gleich digital verschenken. Er kann dann entweder hier unten oder ganz am Ende des Bezahlvorgangs eingelöst werden.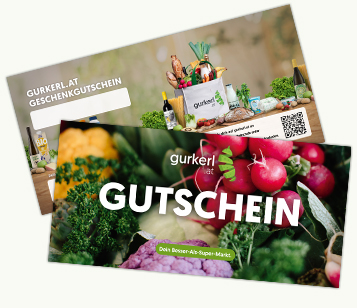 Ganz zackig bei dir
Wir senden den Gutschein direkt nach Zahlungseingang an deine E-Mail-Adresse.

Hilf mit, die Umwelt zu schützen
Kein Papier, kein Problem. Verschenke deinen Gutschein einfach online.

Für ein super Gefühl
Genieße es, anderen Gutes zu tun und ein großartiges Einkaufserlebnis zu ermöglichen.
Buy as a company? Please add a VAT number in your profile page.
If you want to order 30+ vouchers or use an invoice payment, please contact us on kunden@gurkerl.at.