Description
Composition
Similar products
Wagyu burger patties 6x150g
For the burger lover in search of that certain something, there is a time before and after "Wagyu" - so you should have tried the Wagyuhof burger at least once. Our patties are unseasoned and free from preservatives and other artificial flavours - pure nature. Only the best muscle meat from the hindquarter and forequarter is processed. A special and sophisticated production method gives the Wagyuhof Patty a fluffy, juicy taste without typical "pressed meat" characteristics and stiff dryness. With the roasting instructions printed on our "cube", nothing can actually stand in the way of Wagyu burger perfection.
About the producer:
Transparency, sustainability and animal welfare are more than mere phrases. For us, they provide the foundation of a new meat culture that originated in the heart of Lower Austria's Mostviertel region. Especially in today's ubiquity of animal products, the origin of the produce is a decisive criterion, especially as the enlightened consumer is interested in the biography of his product. It is precisely this "biography of the product" that is ensured and guaranteed by WAGYUHOF.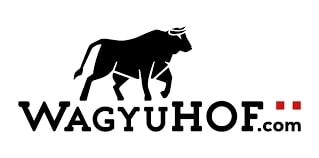 Storage conditions:
Store frozen at -18°C
Producer:
Wagyuhof GmbH
Porstenberg 17
3350 Haag
AT 32734 EC
Durability
Average durability from the time of delivery: 169 days.
Guaranteed minimum durability from the time of delivery: 5 days.If the minimum durability is lower, please
contact us
and ask for a refund. Not applicable to items from the Save the Food section.