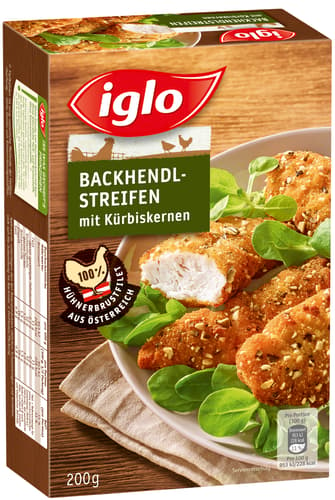 Description
Composition
Similar products
More from this brand
The Iglo fried chicken strips made from 100% Austrian chicken breast fillet refined with hearty pumpkin seed breading. It goes well with a green salad with potatoes and pumpkin seed oil.
About the manufacturer:
Preparation in the oven:
Preheat the oven to 220°C (hot air: 200°C). Then place the frozen fried chicken strips on the baking tray lined with baking paper and bake on the middle shelf for approx. 15-18 minutes. Turn once after half the baking time.
In the pan:
Heat approx. 2 cm of oil in a frying pan. Put in the frozen fried chicken strips and bake over a low heat for approx. 6-7 minutes, turning several times.
In the deep fryer:
Preheat the deep-fat fryer to approx. 175°C. Put the deep-frozen fried chicken strips into the deep fryer and deep-fry for approx. 5-6 minutes.