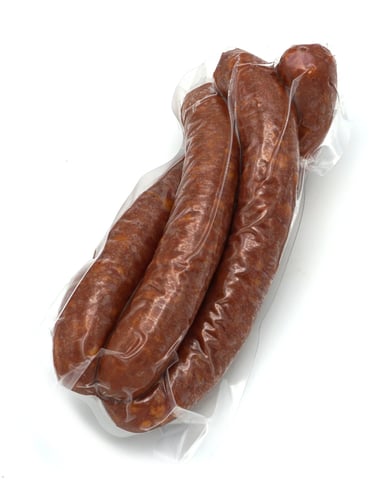 Description
Composition
Similar products
More from this brand
Hallers Bull Beef® - Käsekrainer are made from 100% Bull Beef®, spicy Emmental cheese and aromatic Almenland Stollen cheese. This unique combination gives our Bull Beef® Käsekrainern their unmistakable spicy and juicy taste.
About the producer:
Haller's BULL BEEF®, as it should be, comes directly from his own farm, the largest circular economy in Austria. For pioneer and veterinarian Christoph Haller, respect in dealing with animals and climate protection through circular economy are a matter of course.
Our bulls are fed with lots of grass and hay from the Ramsar protected area, are bedded on straw in the loose housing, and are of course all allowed to wear horns.
Only when our meat has matured optimally in the Bullinarium's own maturing chambers is BULL BEEF® created as it should be - without growth promoters and hormones, with natural marbling, without excessive fat storage and unique in taste.
Climate positive through circular economy
.
The manure is converted into biogas, which is used to produce green electricity for more than 3,000 households at the power plant on the farm.
This not only neutralises the farm itself, but also the greenhouse gases caused by animals.
Packaging type:
Vacuum packed
Storage conditions:
Store refrigerated at 2-4°C
Producer:
Haller GmbH
Gemeindestraße 30,
7411 Markt Allhau
Composition
Ingredients: In 100g beef krainer with cheese contains 100g beef, beef fat, CHEESE (with EI), drinking water, table salt non-iodized, spices (with MUSTARD), flavor enhancer: monosodium glutamate; dextrose, smoke flavoring, maltodextrin, antioxidant: ascorbic acid; paprika extract, garlic, stabilizer: sodium diphosphate; preservative: sodium nitrite. Sheep Shank.
Nutritional values per 100 g
| | |
| --- | --- |
| Energy value | 1377 kJ/332 kcal |
| Fats | 27 g |
| including saturated fatty acids | 13 g |
| Carbohydrates | 0.7 g |
| including sugars | 0.5 g |
| Protein | 21 g |
| Salt | 2.3 g |
| Fibre | g |
Always check the allergens content on the product packaging before consumption.