Description
Composition
Similar products
More from this brand
Meggle Mediterranean Bread 250g
The product is a pre-baked bread type Ciabatta" in the stone oven - with intensive aroma, loose crumb, as well as typical strong-crispy crust. The stone-baked bread is filled with 20% Mediterranean herb cream, refined with virgin olive oil. After a short finish baking, the "MEGGLE Stone Baked Bread Mediterranean Herbs" is ready to eat.
"
Baking instructions:
Remove the product from the packaging and bake in a preheated oven on the middle shelf at approx. 200°C for approx. 11 minutes until browned to your liking.
Serving suggestion:
The Mediterranean bread from MEGGLE is traditionally baked on stone, with a typical crispy crust and is airy-fluffy at the same time. The Mediterranean herb filling, finely balanced with virgin olive oil, makes the product a spicy taste experience. Thanks to its size, the MEGGLE Mediterranean Bread is wonderful for sharing and brings the Italian way of life home with the holiday feeling that goes with it.
New with VEGAN certification!
About the manufacturer: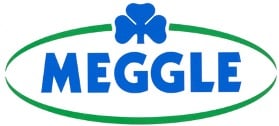 For over 130 years, MEGGLE's recipe for success has been: Tradition, quality and constant innovation. The company was founded as a small cheese dairy by Josef Anton Meggle I near Wasserburg in the vicinity of Munich and is now one of the most renowned manufacturers of dairy products in Europe. The brand products are also sold in North and South America and in Asia. With about 2,500 employees, including about 1,000 in Wasserburg, the MEGGLE Group produces high-quality milk, cheese, cream and yoghurt products as well as butter, butter specialities and filled baguettes for end and bulk consumers. In addition, dry milk products are manufactured as speciality products for the international pharmaceutical and food industries. Always committed to progress, MEGGLE was able to generate a turnover of over 900 million euros in 2019. Despite its international success, it is the homeland that counts: MEGGLE's headquarters are still located in Wasserburg am Inn in Upper Bavaria.
Durability
Average durability from the time of delivery: 12 days.
Guaranteed minimum durability from the time of delivery: 5 days.If the minimum durability is lower, please
contact us
and ask for a refund. Not applicable to items from the Save the Food section.
Composition
Small wheat pastry, type Ciabatta, with 20% Mediterranean herb crème (with 10% virgin olive oil.) For ready-baking.
Ingredients:
Bread: WHEAT FLOUR, water, yeast, salt, ROGEN FLOUR, WHEAT MALT FLOUR, WHEAT GLUTEN. Mediterranean herb cream 20%: Rapeseed oil, water, garlic, virgin olive oil 10%, herbs (basil, oregano, thyme, rosemary), salt, starch, modified starch, lemon juice concentrate, natural herb flavouring.
Store refrigerated (at 2°-7°C).
Contact: MEGGLE GmbH & Co. KG, Megglestraße 6-12, 83512 Wasserburg am Inn, 08071 - 73 0, [email protected]
Nutritional values per 100 g
| | |
| --- | --- |
| Energy value | 1271 kJ/303 kcal |
| Fats | 14 g |
| including saturated fatty acids | 1.2 g |
| Carbohydrates | 37 g |
| including sugars | 2.5 g |
| Protein | 6.2 g |
| Salt | 1.4 g |
| Fibre | 2.3 g |
Allergens
Cereals (gluten)
May contain traces of:
Milk
Sesame seeds
Always check the allergens content on the product packaging before consumption.