Description
Composition
Similar products
More from this brand
Violife Grill Me 200g
Violife Grill Me is the vegan alternative for grilled cheese! Really good vegan melt that forms a crispy brown crust after a short time and also tastes delicious. Try Violife Grill Me at your next barbecue with friends with grilled vegetables, colourful salads and sauces. You'll be amazed at how well the 100% vegan alternative to grilled cheese browns and tastes delicious at the same time! But you can also simply fry it in the pan in bad weather and serve it with your choice of side dishes.
Violife Grill Me is free from lactose, gluten, nuts, soy and preservatives.
RECIPE IDEAS FOR VEGAN GRILLING PIEKS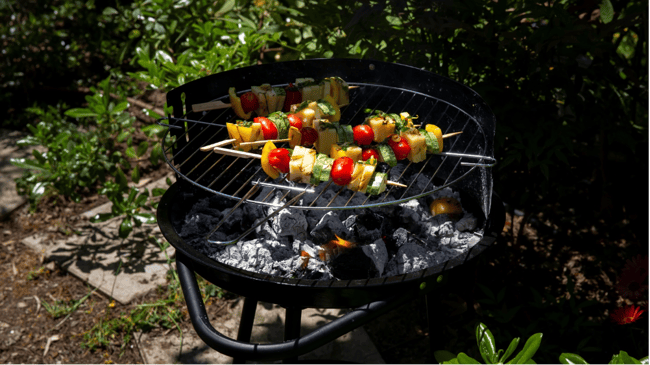 1 pack of Violife Grill Me ● 1 yellow pepper ● 1 courgette ● 140 g cherry tomatoes ● ½ bunch of fresh mint ● ½ tbsp dried red chilli ● 1 organic lemon ● olive oil ● pita bread or pita bread to serve
FOR THE DIP: ● 1 Violife Creamy Original ● 1 cucumber, grated ● 1 handful of mint, chopped ● Olive oil ● Salt and pepper, to taste
Preparation:
Place 6 wooden skewers in a bowl of cold water to soak. Preheat the grill. Cut the Violife Grill Me into 2 cm cubes on a chopping board and place in a large bowl. Carefully cut the peppers into 2 cm pieces. Cut the courgettes into half-moon slices and finely chop the mint leaves. Put everything into the bowl. Add the grated lemon zest, chilli and olive oil. Season with pepper and coat well. Skewer the vegetable and Violife Grill Me pieces alternately on the wooden skewers. Place on the grill and grill for 10-12 minutes, turning if necessary. For the dip: Add salt to the grated cucumber and press through a sieve until there is no more liquid. Place in a bowl with the Violife Creamy Original, mint and olive oil. Season with salt and pepper and mix. Serve the vegetable skewers together with the dip and pita or pita bread.
About the manufacturer:
Welcome to the wonderful world of Violife! We are a happy vegan group of foodies based in the beautiful surroundings of Thessaloniki in Greece. Since the 90s we have been dedicated to producing delicious tasting, 100% vegan, dairy-free food without GMOs, with production facilities in Drama. It makes us proud to be the favourite brand of so many vegans, vegetarians and flexitarians in over 50 countries around the world.
Durability
Average durability from the time of delivery: 99 days.
Guaranteed minimum durability from the time of delivery: 14 days.If the minimum durability is lower, please
contact us
and ask for a refund. Not applicable to items from the Save the Food section.
Composition
Food preparation with coconut oil for grill and pan.
Ingredients: Water, coconut oil (15%), starch, modified starch, barley starch (gluten-free), sea salt, ground sunflower seeds, acidity regulator:
Gucono-Delta-Lactone, flavourings, olive extract, colour: beta-carotene, vitamin B12.
Store refrigerated (at 2°-8°degrees), use within a few days after opening.
Contact: Upfield Austria GmbH, Gertrude-Fröhlich-Sandner-Straße (Tower 9) 2-4, 1100 Vienna, Austria, 01 20 51 90-7169
Nutritional values per 100 g
| | |
| --- | --- |
| Energy value | 1088 kJ/259 kcal |
| Fats | 15 g |
| including saturated fatty acids | 14 g |
| Carbohydrates | 30 g |
| including sugars | 0.2 g |
| Protein | 1.2 g |
| Salt | 3.5 g |
| Fibre | 0 g |