Description
Composition
Similar products
More from this brand
BEYOND SAUSAGE The first plant-based sausage that delivers the juicy, delicious taste of a classic bratwurst: A true innovation that promotes health, protects the environment and the animal kingdom thanks to the use of plant-based protein, while making no compromises when it comes to enjoyment.
.
AdVANTAGES OVER A CLASSIC BRAT Sausage
17g vegetable protein (3g more than a classic bratwurst)
Less saturated fatty acids - no genetically modified ingredients
.
soy- and gluten-free
more resource-efficient production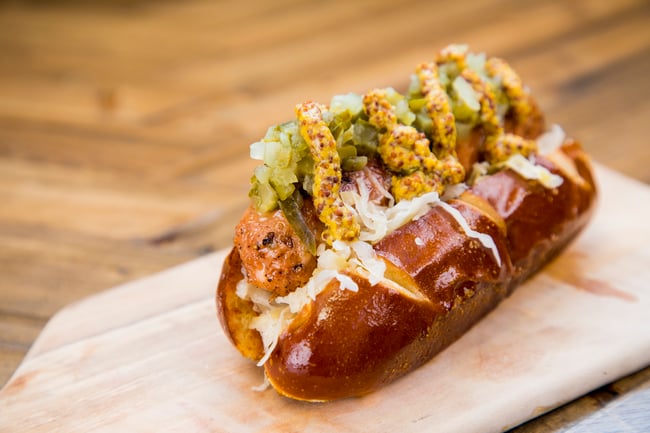 Preparation:
The BEYOND SAUSAGE® can be prepared just like your favourite animal sausage made from beef:
Simply grill/roast on the barbecue or in a pan for six minutes, turning constantly - done
.
About the producer:
Beyond Sausage is now produced for the European market in the Netherlands rather than in the USA, further conserving resources and making the product even more sustainable.
Storage conditions:
Store frozen at -18°C.
Producer:
Beyond Meat / The New Plant
Industrieweg 44,
2382 NW Zoeterwoude
Netherlands
Durability
Average durability from the time of delivery: 136 days.
Guaranteed minimum durability from the time of delivery: 30 days.If the minimum durability is lower, please
contact us
and ask for a refund. Not applicable to items from the Save the Food section.
Composition
Ingredients: Water, pea protein * (16%), coconut oil, sunflower oil, rice protein, field bean protein, flavouring, potato starch, salt, fruit and plant concentrates (beetroot, carrot, pepper), apple fibre, citrus extract flavouring, stabilisers (methyl cellulose, calcium alginate).
Nutritional values per 100 g
| | |
| --- | --- |
| Energy value | 990 kJ/238 kcal |
| Fats | 16 g |
| including saturated fatty acids | 7 g |
| Carbohydrates | 5 g |
| including sugars | 0 g |
| Protein | 17 g |
| Salt | 1.35 g |
| Fibre | 3 g |