Description
Composition
Similar products
More from this brand
Delicious Mini Bratwürstel, refined with nothing other than our special spice blend. Perfect for the barbecue at the garden party or for the pan at home. SOLO product - without nitrite, phosphates, citrates and without other additives
.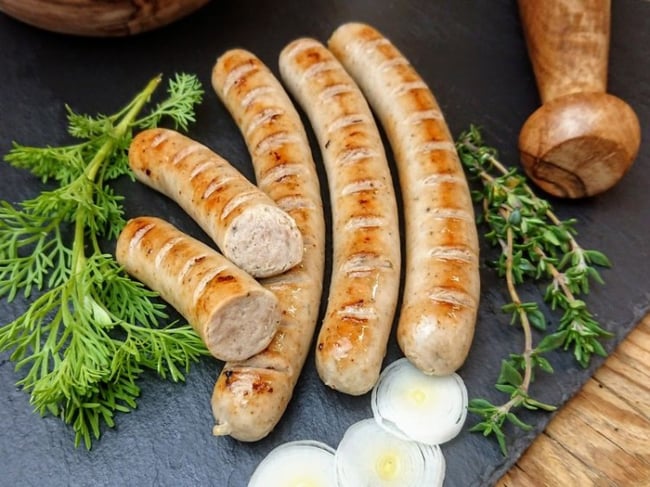 About the producer:
Labonca Biohof in the east of Styria - organic free-range farming & pasture slaughterhouse
.
For organic farmer Norbert Hackl it was already clear at the beginning of Labonca free-range farming about 20 years ago.20 years ago it was clear that a supplementary different path would be taken in the husbandry of the animals. The focus of all considerations should not be on profitability, but on the need for all animals at Labonca to fulfil their natural needs such as: Running, burrowing, wallowing, nest-building and much more on extensive pastures and in the wild.The animals should be allowed to live out their lives in the wild and their dying off in peace and familiar surroundings should take place.
On over 300,000m² sun pigs and mountain pinto cattle live a lifetime on extensive pastures in the wild.
We see the organic standards as the basis of our work, but - especially in animal husbandry - we go far beyond this standard.
Old breeds (Schwäbisch Hällisch, Duroc) and the extensive feeding without maize and without soya are the basis for the best pork in the country.
A sun pig gets almost twice as old, the meat therefore particularly tender and finely marbled.
The Labonca Pasture Slaughterhouse (Europe's first certified slaughterhouse with direct pasture access) ensures an animal's demise in a calm and familiar environment, completely free of transport, stress and fear.
Labonca has received several awards for this pioneering work and is a multiple recipient of a Federal Animal Protection Prize, Climate Protection Prize and others. v. m.

Packaging type:
Vacuum packed
Storage conditions:
Store refrigerated at 2-6°C, consume as soon as possible after opening
.
Contact:
Labonca Biohof GmbH
Main Pl. 6
8291 Burgau
AT BIO 401
Durability
Average durability from the time of delivery: 6 days.
Guaranteed minimum durability from the time of delivery: 3 days.If the minimum durability is lower, please
contact us
and ask for a refund. Not applicable to items from the Save the Food section.
Composition
Ingredients: Pork (70%)*, bacon(17%)*, salt, spices*, water, scalded, *= from controlled organic farming, gluten and lactose free
Nutritional values per 100 g
| | |
| --- | --- |
| Energy value | 1620 kJ/387 kcal |
| Fats | 36.3 g |
| including saturated fatty acids | 15 g |
| Carbohydrates | 1.4 g |
| including sugars | 0 g |
| Protein | 12.6 g |
| Salt | 2.4 g |
| Fibre | 0 g |