Description
Composition
Similar products
More from this brand
Ländle Vanillemilch
Über den Hersteller: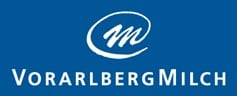 Die Vorarlberg Milch ist eine eingetragene Genossenschaft in Besitz von ca. 500 Vorarlberger Landwirten.
Vorarlberg besteht zu 47 % aus Alpfläche und einer kleinstrukturierten Landwirtschaft. Die durchschnittliche Herdengröße beträgt 17-19 Kühe. Unsere Landwirte kennen Ihre Kühe noch beim Namen.
Die Vielfalt der Kräuter und Gräser macht unsere Milch einzigartig. Wenn man die Schönheit unseres "Ländles" kennt, ist es ganz natürlich, dass von hier die beste Alpenmilch kommt.
Es wird nur Milch aus Vorarlberg zu hervorragenden Milchprodukten und Käsespezialitäten verarbeitet.
Durability
Average durability from the time of delivery: 7 days.
Guaranteed minimum durability from the time of delivery: 3 days.If the minimum durability is lower, please
contact us
and ask for a refund. Not applicable to items from the Save the Food section.