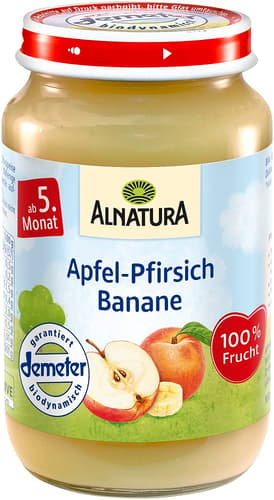 190 g
200+ customers have in favorites
Did you know?
Join Gürkchen Club for free today!
Extra discounts and other perks for parents with children under 12.
Description
Composition
Similar products
More from this brand
Alnatura Apple - Banana, 190g(after the 4th Month)
12
Bio Früchtezubereitung (glutenfrei).
Zutaten: Äpfel* 74 %, Pfirsiche* 19 %, Bananen* 7 %
*aus biologischdynamischem Landbau.
Trocken & vor Wärme geschützt lagern. Angebrochenes Glas verschlossen im Kühlschrank aufbewahren, innerhalb von 2 Tagen verbrauchen.
Bio-Kontrollstellennummer: DE-ÖKO-006
Kontakt: Alnatura GmbH, Mahatma-Gandhi-Straße 7, 64295 Darmstadt.
Nutritional values per 100 g
| | |
| --- | --- |
| Energy value | 239 kJ/57 kCal |
| Fats | 0.5 g |
| including saturated fatty acids | 0.2 g |
| Carbohydrates | 11.5 g |
| including sugars | 10.4 g |
| Protein | 0.5 g |
| Salt | 0.01 g |
| Fibre | 2 g |